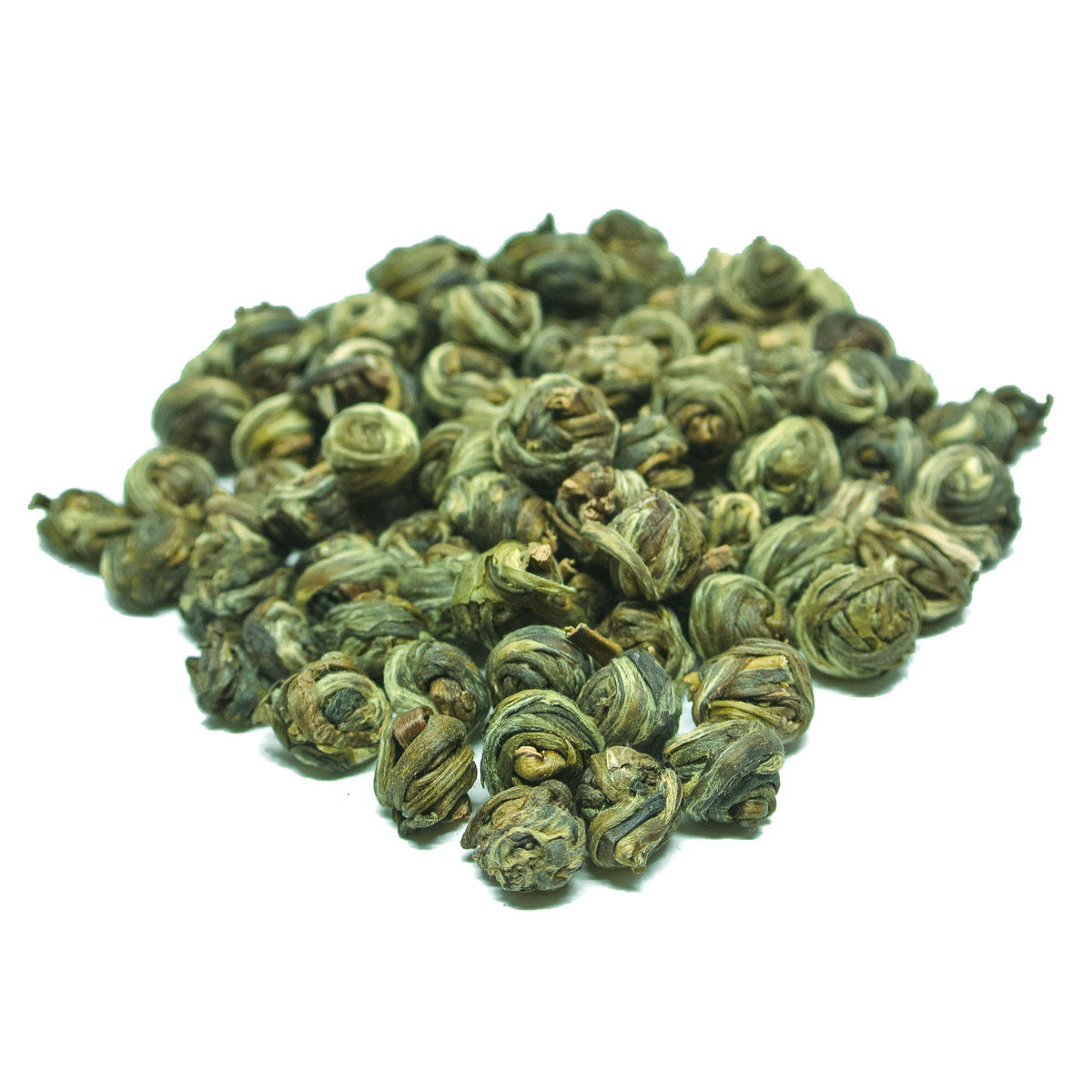 Customer Reviews
06/14/2022
Vrinda V.

Canada
Beautiful pearls with exceptional taste!
This is the best green tea I've had and I've tried many teas before this!! My entire family is hooked to this tea and they typically don't like other green teas. This tea has a beautiful jasmine aroma that is perfect to start your morning or calm your nerves on a strenuous day. Apart from the aroma, the taste is just exceptional. I also really enjoy watching the pearls unfold and expand as they steep.
Thank you for taking the time to give us such an exceptional review!! It so wonderful to hear that our product is being enjoyed and that the quality is apparent in the experience!!
05/27/2021
Heather M.

Canada
Nice
This is a lovely jasmine green tea.
01/25/2021
Chloe M.

Canada
Delicious
I'm thrilled to find a legitimate jasmine green tea with the perfect balance of jasmine. It's delightful. I love that this is a local business and delivery was right to my door :) Thank you
09/25/2020
Alexander G.

Canada
Fantastic company and lovely teas; I just need to get a hobby
I will preface by saying that VirtueTEA has been an absolute joy to buy from-- their small team really knows their stuff! I am not ashamed to admit I now do a majority of my tea-shopping here, opting for large bulk-ish orders easily in the couple hundreds of CA$, and I don't intend to stop anytime soon. High-quality loose-leaf teas abound, I've yet to be truly disappointed by any of my purchases. Imagine my joy then, when I found that the same company also offers jasmine pearls at a steal of a price (CA$65.00/250g at the time of writing) for my absolute favourite kind of tea. And while I cannot deny that for western-style brewing (and by extension, most likely the majority of Canadian consumers) these pearls produce a smooth, bitter-free, aromatic cup time and again, they at the same time leave something to be desired in my gong fu ventures. My experience with these particular pearls matches those of some cheaper varieties-- retaining an intoxicating floral scent and jasmine flavour for a good first and second infusion, before depreciating into a pretty standard green tea (which is still quite yummy, in the case of these pearls!) From my experience, this is usually due to the way the pearl was fragranced-- i.e, an artificial scent or flavour may have been substituted in at some point. This may, however, explain the more reasonable price (my 'gold standard' pearls run upwards of CA$120/200g, but retain their flavour noticeably longer.) Regardless, I aboslutely recommend them in good faith knowing that VirtueTEA is a brilliant supplier of pretty well every other loose leaf tea, and that the majority of people spend their free time doing more productive things than playing with teas. And did I mention that this price is a steal?
08/23/2020
Dawne B.

Canada
my favourite!!!
Great company to deal with...I've bought their tea many times and it's always a very satisfying experience...thank you Alex!