Customer Reviews
10/19/2020
NADINE B.
Canada
Virtue's Golden Milk is the only drink on my list!
I absolutely love this 'golden milk'!! Ive tried others, but there is no comparison!! I"m on a very strict Paleo-Autoimmune protocol and so this is pretty much the only beverage I consume daily and it's helped me so much! Plus Alex and Andrea are amazing!!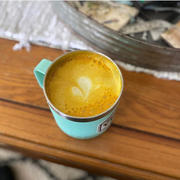 09/02/2020
Nadine B.
Canada
We are blessed to have this in our own community
I love this tea and will be a fan for life!!
04/15/2020
Lisa L.
Canada
Golden Milk
I find it a bit strong so I'll use less to get the concentration right for my taste.
Indeed, our Golden Milk blend is quite flavorful which is a sign of quality ingredients. I only need a small tea spoon for a 12oz cup. Thanks Lisa for the feedback. - Alex
01/18/2020
Trail Coffee Co. / Maddie Van Horn
Canada
Golden milk review
Never tried anything like this before! I am absolutely hooked! So good for you and absolutely delicious!
Have you tried it with oat milk? and a teaspoon of honey please! Alex