Customer Reviews
Write a Review
Ask a Question
06/09/2022
Cheryl T.

Canada
Matcha Premium
I love love love your Premium Matcha. I'm looking forward to warmer weather, when I will enjoy it over ice with a splash of non dairy creamer. It makes a great refresher on a hot day <3
Thank you Cheryl! You are right, It is so good iced with a plant based milk.
05/29/2022
Genevieve B.

United States
Amazing matcha
Best matcha I've tried. ❤️
Thank you Genevieve! I couldn't agree with you more, It's just so good!
04/27/2022
Keely P.

Canada
Amazing!
My new favourite Matcha experience outside of Japan! This is so delicious and makes me feel amazing.
Thank you Keely! Great reviews are the wind in our sails. I couldn't agree with you more, the Matcha makes me feel amazing and it is one of my daily pleasures.
03/07/2022
Rebecca A.

Canada
Only matcha I buy
Absolutely love this tea! A friend in the area put me on to it, now I order regularly and have shipped to my home in the interior.
Thank you Rebecca for the shout out!
03/03/2022
Sara-Anne B.

Canada
Best matcha I've ever had!
I discovered this matcha while living in Nelson, BC and now that I've moved back to Ontario (and soon off to the East Coast), I'm telling everyone I know about it and sharing with them! My fiancé and I drink matcha every morning and we now only order Virtue :)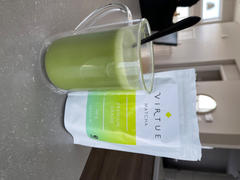 Thank you Sara-Anne for this review! I'm thrilled that our Matcha is getting out there and that you are enjoying it!