Customer Reviews
Write a Review
Ask a Question
01/25/2021
Melissa Z.

Canada
Golden Milk
Great creamy texture. However, I found the ginger quite strong and overpowering. Hard to drink a full cup, and hard to enjoy the other flavours in the mix.
01/11/2021
Cheryl T.

Canada
Golden Milk
Quite some time ago one of my sisters turned me on to your Premium Matcha which I thoroughly enjoy every day. Recently I noticed your Golden Milk and so I included a bag in my Matcha order. Well, I have to say that it does not disappoint >3 >3 . I love it so much that I just ordered 3 more bags (very prompt deliver - thank you very much). Two bags for me and one for the sister who turned me on to your Premium Matcha. I love love love love it. It is my afternoon, by the fire go to. Thank you Virtue Tea for another great product. Your Fan Cheryl Trevison
12/09/2020
Nuru C.

Canada
D'oro Latté
So delicious, it's earned a spot on our coffee bar menu! Also tasty in a smoothie with banana, plain yogurt, cashew milk and honey, yum!
10/19/2020
NADINE B.

Canada
Virtue's Golden Milk is the only drink on my list!
I absolutely love this 'golden milk'!! Ive tried others, but there is no comparison!! I"m on a very strict Paleo-Autoimmune protocol and so this is pretty much the only beverage I consume daily and it's helped me so much! Plus Alex and Andrea are amazing!!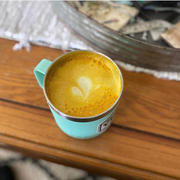 09/02/2020
Nadine B.

Canada
We are blessed to have this in our own community
I love this tea and will be a fan for life!!